Welcome to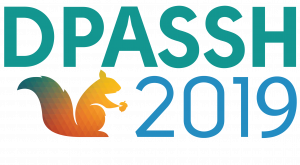 Practical Approaches to Open Research in Arts, Humanities & Social Sciences
Date: 5 December 2019
Venue: The McClay Library, Queen's University Belfast
DPASSH 2019, the biennial 'Digital Preservation for the Arts, Social Sciences and Humanities' conference will this year be a collaboration between the Digital Repository of Ireland and Queen's University, Belfast.
Keynote address: Martin Eve, Professor of Literature, Technology and Publishing at Birkbeck; CEO at Open Library of Humanities,  'Future of open research and its impact on Humanities and Social Science'
Topics covered in the panels will include:
– Practical approaches to Open Research in Arts, Humanities & Social Sciences
– Identifying what research data is in the domain of ASSH
– Collaborations between researchers and cultural heritage
– 'FAIR-ifying' your research data.
DPASSH is a response to the problem of digital preservation within the arts and social sciences domains. It seeks to address the complexities of long-term digital preservation of the full variety of research materials; and to encourage a long-term dialogue around the issues created by such preservation.
Follow DPASSH on Twitter: @DPASSHConf and Tweet to #DPASSH